Traditional masturbation has become supplemented by the elevated ways that you can increase your own self-pleasure. One of the best masturbation alternatives is sex dolls. These dolls come in all shapes, body parts, sizes, and materials and are designed to enhance your intimate experiences. While many of these toy options are on the market, not all are made of high-quality material or offer you the same satisfaction as other brands. In this article, you'll learn the difference between a masturbator doll, a sex doll torso, and a full sex doll to help you decide which toy is best to suit your needs.
The Masturbator
A masturbator sex toy is the smallest of the three. They often come in a handheld device or resemble a part of the body. These toys are convenient, easy to use, and offer you enough pleasure to meet your needs. Your own preference will determine which type of masturbator works best for you. If you're just looking for a way to find pleasure without adding in a level of intimacy, the masturbator may be your best choice. You can choose your favorite body part and use it to enhance your daily needs. Masturbators can easily be used in many positions and even standing up. Their lightweight nature allows you to manhandle them as you wish.
A fleshlight is a sex toy for men. It is a sleeve that goes over the penis and has an opening at the end. The inside of the sleeve is textured and can be made to feel like different body parts or materials. Fleshlights are used for masturbation and can be helpful for people who have difficulty ejaculating or whose erections are not as strong as they would like.
Idols Doll's handheld torso masturbator is an easy-to-use toy containing all vital parts for pleasure. Although this toy's size isn't realistic, it's large enough for you to enjoy each body part. Kaya (5.38 lbs) is designed with pleasure tunnels that are deep, tight, and realistic. She can be used on her back, side, or stomach, and she's lightweight, so you can use her just about anywhere.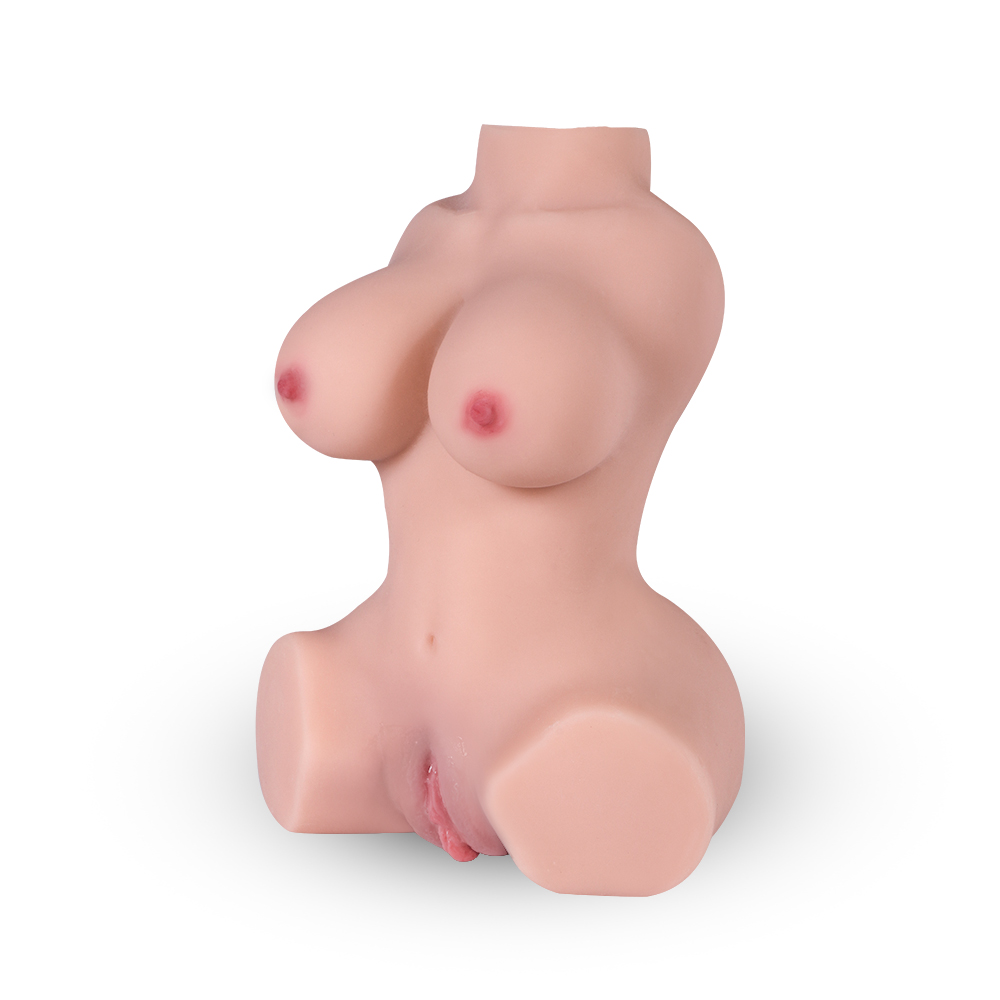 Kaya 5.38LB Easy Handheld Torso Male Masturbator With Boobs
Short on space, or cash, but still want good love? Presenting Our Kaya! – if you want to experience the quality of our pleasure tunnels (vaginal and anal for the lowest cost and lightest weight, this is your Kaya! Kaya is priced similarly to fleshlights and other handhelds, but is more fun because of its sexy design and feel. Pound for pound our most pleasurable product!
Masturbators also come in a variety of realistically sized body parts, such as the vagina, anus, and butt. These toys are smaller than traditional sex dolls but are equipped with all the essential parts.
Idols Doll's Odette (13.23lbs) allows you to perform vaginal and anal intercourse. She comes equipped with five suction and vibration settings to help simulate the real experience. Her lips are also designed to have a breathing sensation for added pleasure. She can be used on her back, side, or stomach for deeper angles.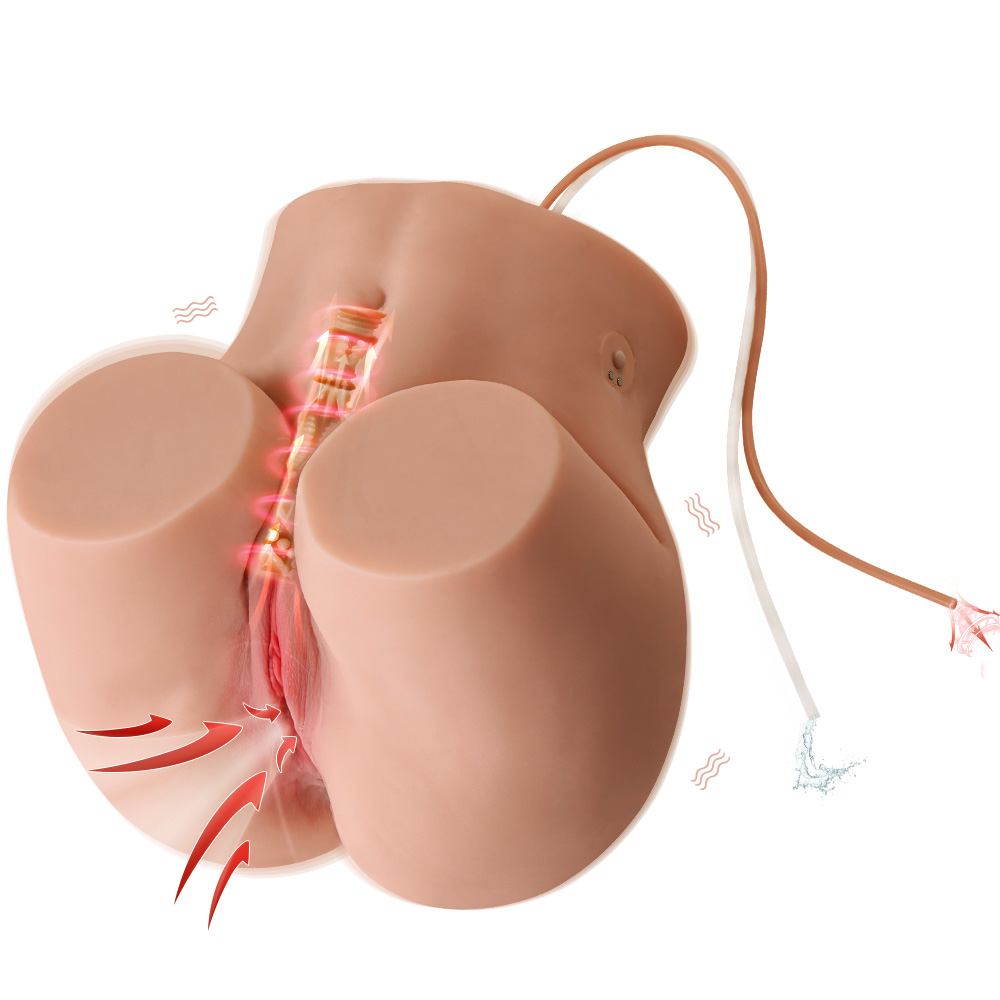 Odette 13.23LB Realistic Electric Hip Sex Torso Virgin Channel
Odette has a perfect size and weight,it is 11.22in x 10.23in x 7.48in and weighs 13.23lb, you can put it on the desktop to enjoy the fun of insertion, the anal and pussy are deep enough to give you realistic feelings like a real girl.
Her delicate vagina and anal will brings you the ultimate virgin experience, you can choose your favorite posture to conquer her!
This automatic male masturbator hip torso integrates up to 5 sex technologies to bring you into the era of sex 3.0 and push the sex experience to a higher level.It has 5 sucking and vibrating modes, which can give your bro double strong stimulation.
Sex Doll Torso
A sex doll's torso is smaller than a full-size doll, often providing a toy that includes a vagina, anus, and breasts. These toys don't contain appendages, but they they have a realistic feel that will satisfy any man. Sex doll torsos come equipped with either a vibrational setting or not and usually contain both the anus and vagina to choose from, but not every product you find will. If you're looking for the best option, find one that has all of the essential parts so you can stay satisfied and interested in your toy long-term.
One of the great features of a sex doll's torso is the breasts. You can find a doll that has your preferred size of the breast. They come in small, medium, and large. These breasts are soft and movable; you can even use them to masturbate, just as you would with a real sexual partner. The entire body of these torsos is made to feel as realistic as possible, helping you become lost in the experience and pleasure. Always follow the special instructions for sex doll torsos, as some cannot be cleaned the same as other masturbation toys.
Idols Doll has the perfect sex doll torso for anyone who's starting or is experienced using dolls. Britney (20.68lbs) comes built with a voluptuous set of breasts that move realistically. Britney stands out from other sex doll torsos because she has five vibration and suction modes that allow you to increase speeds to find your pleasure point and create a realistic experience. Her five settings are designed to be used at different paces throughout your session. The suction helps mimic oral sex for a bonus.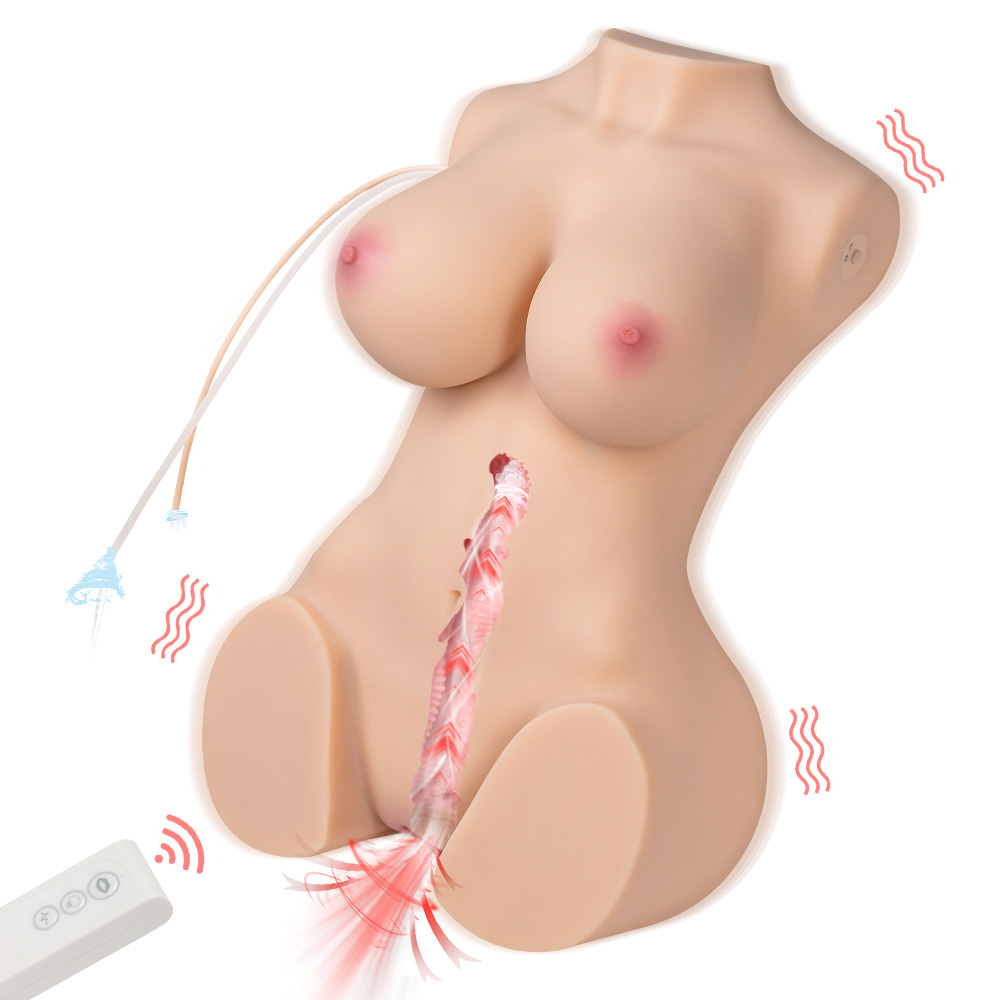 Britney 20.68LB Electric Sex Doll Big Boobs Torso Male Masturbator
Britney is a game-changing sex doll male masturbator! Different from traditional sex doll torso which only singly mechanical hand-cranked in order to work without mimicking the sensations of real sex.
However, our Britney have a powerful automatic double channel with 5 vibration and suction modes. Britney sex doll sucks and wraps your glans like an experienced beauty, giving you a real taste of oral sex and a deep throat experience.
Bonus skills – When you think of having an orgasm, you can switch Britney's tunnel to the strongest vibrating and sucking mode, you'll having the ultimate orgasm with Britney at the same time! Like fireworks!
Her body is designed for many if you have a specific position preference. You can also dress her in your favorite clothing or sexy lingerie to help stimulate the real experience of taking off her clothes. This increases the level of intimacy you'll experience and your overall satisfaction with the doll.
Full Sex Doll
A full sex doll, or a life-sized sex doll, is a toy that most closely resembles a natural woman. These toys are much more intimate and realistic than the previously mentioned varieties. They are large, often weighing between 50 – 80 lbs, and designed to create a pleasurable experience you will love. Their life-size design allows you to use them in a multitude of ways. Foreplay may be more enjoyable, as you can lay next to these dolls as you would with a real-life partner. They can be dressed up, allowing you to strip them down before beginning. If you have the room to discretely keep a sex doll of this size, it's worth the price as well as its function. The body is made of life-like material that moves and feels as soft as a woman's skin. Her breasts are large, bouncy, and equipped with realistic nipples that you will enjoy. Many full-sex dolls have arms and legs that add a natural touch, allowing you to wrap them around you while you engage with the toy. Full-sex dolls move just as a real woman does; you can flip her on her back, side, or stomach and enjoy every inch of her.
One of Idols doll's best full-size sex dolls is Rebecca (57.32 lbs). Rebecca has both vaginal and anal tunnels giving you two options to choose from. Each tunnel is designed to feel like a real woman, with varying degrees of pressure, depth, and width. She can be used in any position, and you'll enjoy holding her hourglass figure as you explore the different parts of her body. Rebecca is great for anyone who isn't looking for a toy with vibration settings. She comes naturally designed for a real pleasure that just about any man will enjoy. Rebecca is also great for cuddling or keeping them next to you even when you're not engaging with her sexually. Her soft skin body can help keep you company both in and out of the bedroom.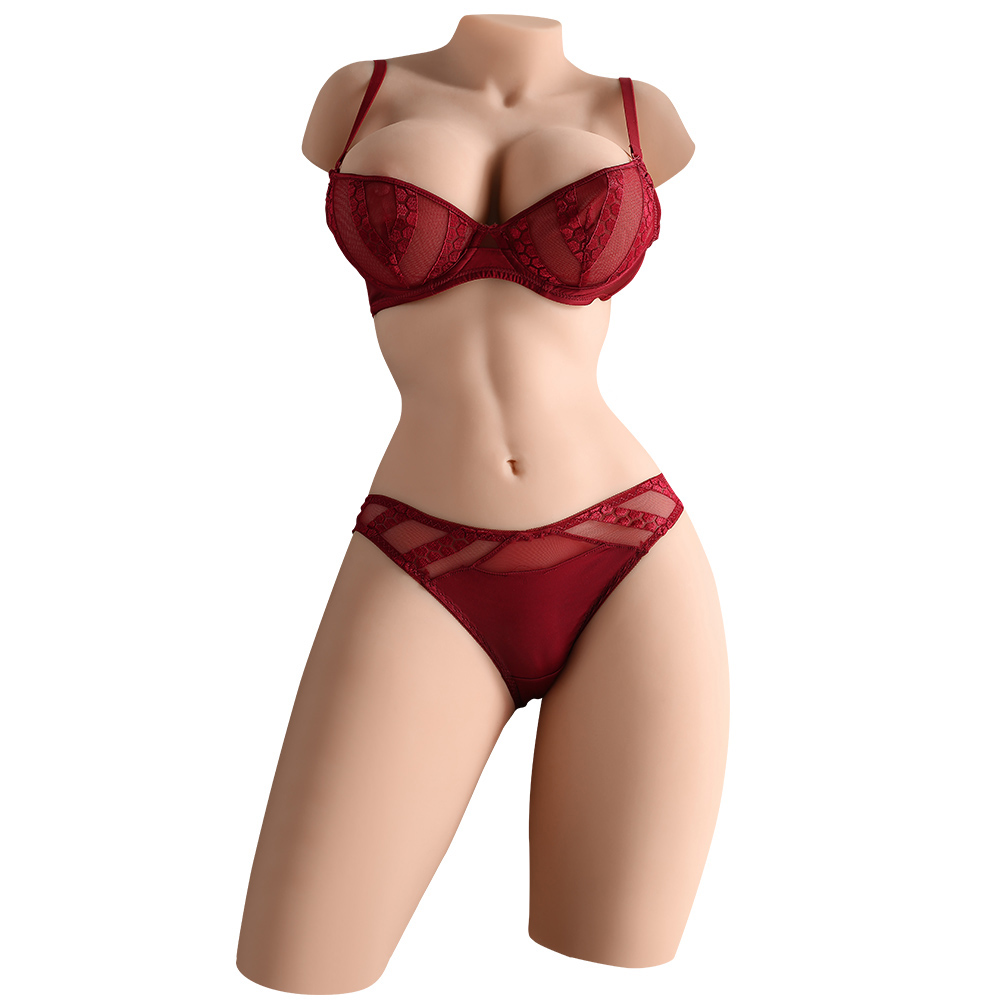 Rebecca 57.32LB Hot Girl Torso Hourglass Slim Figure Sex Doll
Are you ready to embark on an unforgettable journey of pleasure? Meet Rebecca, the enchanting sex doll torso designed to fulfill your deepest desires. Rebecca is a life-sized blonde beauty with a big juicy ass, big breasts and an hourglass slim figure. This exquisite sex doll torso crafted from high-quality TPE materials, her soft and flexible skin feels just like the real thing, allowing you to easily grasp her waistline and indulge in unrivaled pleasure. With her lifelike features, flexible stable skeleton and realistic tunnel, she is here to revolutionize your sex experiences!
Jennifer (70.54 lbs) is a curvy full sex doll variety for any man who enjoys a woman's body with a little extra substance. She is designed for three methods of masturbation, vaginal, anal, and her breasts. Her curves allow her to move and bend in ways that will enhance your overall experience. Jennifer's legs can be bent upward, allowing deeper penetration in the missionary position. Because of her large nature, her buttocks are very realistic and will feel just as pleasurable as the real thing. Jennifer's body is very realistic, so it's important to have a special place to keep her when she's not in use. You can dress her up, lay with her in bed, and put her in just about any position you desire.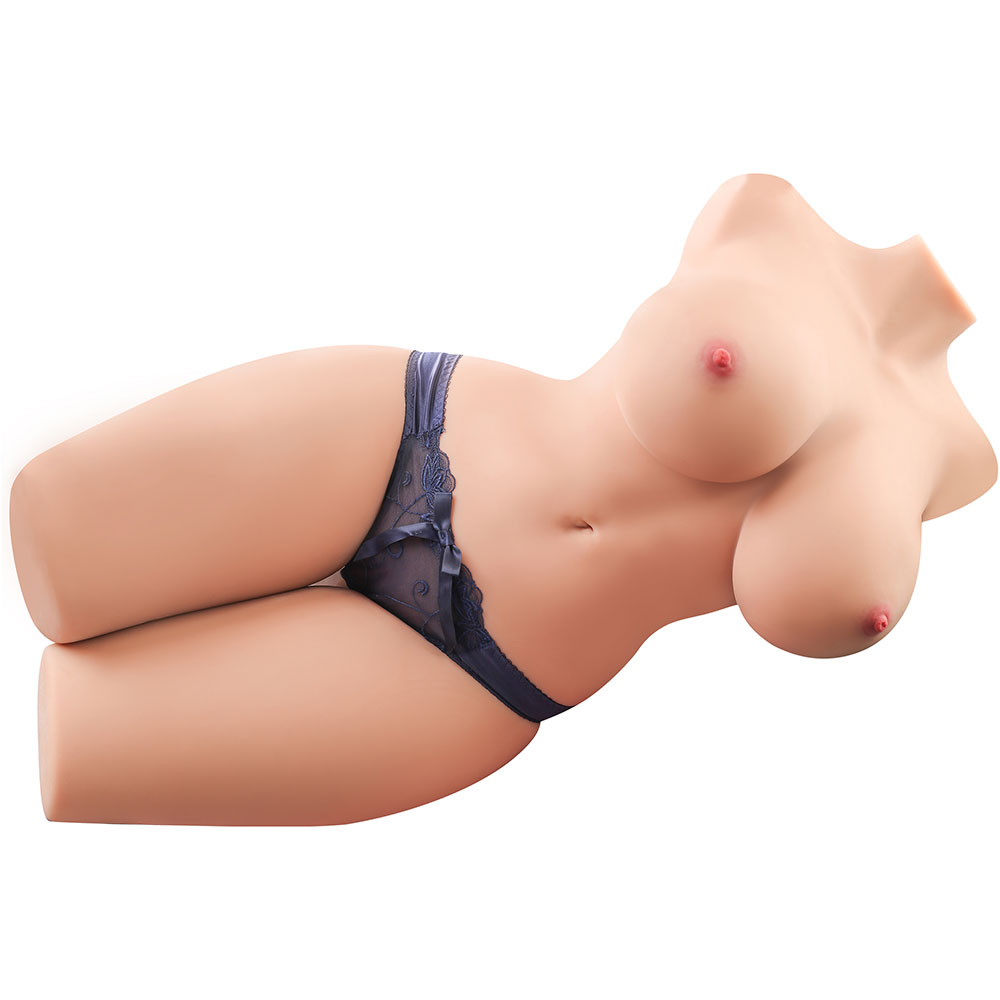 Jennifer 70.54LB Life Size Torso Sex Doll Plump Curvy Woman
Are you ready to take your sexual experiences to the next level? Look no further than the life-sized Jennifer sex doll torso! Jennifer doll is made from high-quality TPE materials. She has a plump, curvy body and big, bouncy breasts that are impossible to resist. With her flexible and stable skeleton, you can enjoy a wide range of sexual positions without any limitations. If you want to dive into how Jennifer can improve your sexual experience, please scroll down to view additional product information!
Which Sex Doll Is Right For You?
After learning about the three main sex doll varieties, you may be unsure of which is the best for you. The key is to figure out your masturbation preferences. If you enjoy a quick fix or don't have a lot of time to time during your sessions, you may benefit most from a standard masturbator. These toys are usually the cheapest option, small, and easy to clean. Masturbators don't take up a lot of room, and you can use them in just about any room or environment because of their small size.
For someone new to sex dolls but wants a more realistic experience, a torso sex doll may be your best bet. While they don't have realistic arms and legs, they do have the most essential parts of a woman's body. You can engage with her breasts or buttocks when using her, adding to the overall sensations of the experience. You'll enjoy having a toy that has a realistic feel and is more engaging than a masturbator.
If you're looking for the most realistic toy you can find, consider purchasing a full-body sex doll. These dolls have real women's body weight, creating a natural feel during your session. They usually have portions of their arms and legs that can help you position them more easily or add to the experience of foreplay/after-play. Using a full-size doll can be great for replacing the lack of intimacy you may be experiencing in your life, giving you a life-like option that is consistent and always there for you when you need her.
Can Sex Dolls Replace The Real Thing?
While no sex toy can replace the touch and feel of real women, sex dolls come strikingly close. They are customized and designed for pleasure and can certainly be used to supplement a lack of sex in any man's life. Some even have remote functions that mimic physical qualities unlike any other toys on the market. If you're looking to enhance your masturbation sessions or add a sense of intimacy to your life, consider adding a sex doll into your routine.
For more information on sex dolls or to browse through some of the best options on the market, head over to Idols Doll.